Richter
Aug 23, 2008 19:11:20 GMT -6
Post by Richter Abend on Aug 23, 2008 19:11:20 GMT -6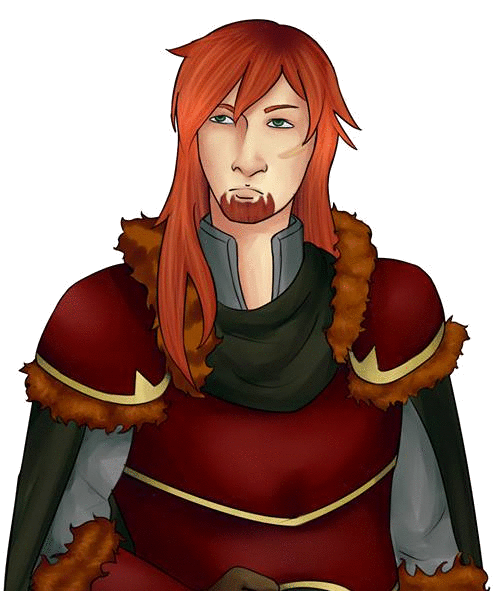 Name
: Richter Abend
Age
: 20 (Currently 28)
Height
: 6' 3"
Weight
: 246
Class
: Mercenary
Gender
: Male
Hair Color
: Rose
Eye Color
: Green
Born in
: Ilia
Appearance
: Crowned with long, reddish-pink hair, Richter strikes an impressive figure. He stands taller than most and is built like any man who fights for a living, though his favorable genetics have blessed him with a body properly proportioned and tuned for his occupation. His eyes, cool and distant, have been hardened through a life atypically plagued by hardship and toil. He is covered in the scars of his many battles.
His usual traveling wear consists of a variety of breathable cotton shirts typically worn beneath a grey, high collared woolen jacket and pairs of leather pants and gloves for their hardiness in the face of constant exposure. In battle Richter equips a suit of crimson armor designed and commissioned for him by his tactician, adviser, and friend, Mavick of Ostia, also known as the Little Strategist. With a dagger in his boot, a knife in his belt, and the dragonbone frost axe Boreas slung across his back, Richter marches onto the battlefield to fight for what he believes in at any cost.
Personality
: Richter Abend is a man with quite a modern legend built up around him as even the bards have begun to sing of the tales of his great heroism and victories in the face of insurmountable odds. But if you asked the warrior-commander about his merits, you would likely instead receive a blank look and a callous rebuff. Richter is cynical man with a bit of an ego to boot, and much like his country those who have worked with him have often found him cold and distant. He is not fain to suffer fools, sees violence as an acceptable if not necessary means to and end, and often lets revenge cloud his better judgement. He is quick to disregard he advice of his comrades and slow to share his feelings with others, but underneath that scarred and frost-bitten exterior is a man with a heart that tries its best to do good for the sake of his fellow man. It is a heart that can't pass up someone in trouble, a heart that would rather die than see the powerful and the wicked oppress the weak, and a heart that would jump headfirst into a fight without a second thought to avenge a fallen comrade.
Story
: Richter was born to a poor family in a backwater town in Ilia, just one of many towns over which a large, wealthy company of mercenaries ruled by constantly taxing the life out of the already poor villages.
Richter's father, Rudger Abend, was once a proud and ambitious mercenary commander, a man whose skill with the blade was only matched by his unbending resolve. Through a litany of victories on the battlefield he became an associate to Ilia's elite, a captain among captains, and quickly became notorious for the ruthlessness that purchased him those victories. But at the height of his career he took a foul blow to his left leg. His men had rushed him off of the battlefield, but by the time he reached the healers, his leg was too far gone. They were forced to amputate, crippling the man for life.
It was in his weakness that the "at any cost" code that Rudger had based his life around now began to cost him. While his incredible military record had garnered him the admiration of many of his peers and rivals alike, his callous method of command left behind him a bloody trail upon which walked many enemies. The children of many a parent had been sacrificed to fuel the Ilian mercenary commander's expensive tactics, and his brutality and ferocity on the battlefield had weaved a tapestry that sang as much of his accomplishments as it did the corpses and orphans he left in his wake.
So when the Council of Edessa came together to award the once-commander for his years of service to the Spire, a number of furious commanders and soldiers interrupted the ceremony. They accused Rudger of all manners of war crimes, which upon trial were proven to be true. Rudger's original sentence handed down by the Council had been death by hanging, but the crippled Abend's allies had seen his punishment lightened. The warrior-commander's assets were stripped of him, and he was banished from all of Ilia's major cities, dooming his family, Richter's family, to a life in the backwaters of Ilia.
Though Rudger never spoke much of his life as a soldier, Richter had always known of his father's ruined reputation. Nonetheless he aspired to follow in the man's footsteps and become a mercenary of renown. Like his brothers before him, he started off doing jobs such as package running, and by the age of 12, he had managed to become an shield bearer in the company that his brother Ardus would later come to lead.
And thus Richter was happy, or at least as happy a dutiful, cold, tired Ilian could be.
But one day a traveling merchant came to his town. Normally this would have been nothing out of the usual. Ilians that lived as far north as Richter subsisted almost entirely on hunting, so merchants were a vital part of Ilian life. They provided everything that northern Ilians could not normally obtain, like milk and grain, and were thus the primary connection between the Ilian backwaters and the rest of the tundra nation. This particular visit, however, was a once in a lifetime chance for the people in his town, for this merchant was no simple food trader. He had come bearing goods from all over Elibe, and the people of the village flocked to him to see all of the exotic things the he had to provide.
Richter was just one of the many that went to the merchant in search of things to buy. Many of the merchant's wares were far too expensive for someone like Richter, gold trinkets and the like, but the young Ilian wasn't in search of jewelry. He was looking for something with more of an edge: a sword. Unless one was accepted to the academy in Araphen to become a professional, most mercenaries were expected to purchase their own equipment. Richter, with a family name as notiorious as it was, had no hope of going to Araphen, and being poor as he was, could not afford a sword. His brothers had been lucky enough, and skilled enough, to find themselves sponsors willing to contract them, paying for their continued training and gear in exchange for a cut of their earnings.
But Richter had not been so lucky. His swordsmanship was only serviceable, and his dry attitude tended to get him into trouble. His brothers sent money home, but with such a significant cut being taken of their earnings, they were only able to spare enough to keep food on the table and a roof over the heads of their parents and siblings. So Richter had saved, and now, with a sack full of coin, took his life's savings to buy himself a sword. The weapon was by no standards mastercraft, but to Richter it was the finest sword a man could own.
Now normally Richter would have ended up buying the steel blade from the merchant and left, never to see the man again. However, the merchant, realizing he was getting old, decided to settle down in Richter's village, to experience the peace and quiet of the northern wilderness. When Richter would come home from months of mercenary work, the two would often talk, with Richter telling the merchant all about his trip. The older man would just smile and listen, and the two eventually became fast friends. The merchant become a sort of teacher to Richter, and when home the young Ilian would come by the man's hut everyday and visit, listening to stories of all the places the merchant had gone. And when Richter came home injured from the Bern Solider Rebellion, the merchant came by every day to keep his young friend's spirits up.
Now the Ilian backwaters could be considered to be as lawless as the Western Isles in some places, and Richter's town was no different. When Richter was about seventeen, a gang of thugs, mercenaries they called themselves, that ran about forty strong moved into the the area. Declaring themselves in charge, they went in between the seven or so villages in the area and taxed the populous. With his father crippled and one of his brothers gone missing years earlier in a failed Bernese campaign, the one that had sent Richter home injured, the village didn't bother trying to fight off the bandits, merely giving into their demands in hopes they'd move on for awhile. Which they usually did.
On one of their money runs, they stopped off at the merchant's hut, looking for their dues. The merchant, as usual, gave them the typical due, but the mercenaries still demanded more. The merchant at first refused, saying that he could not squander the last of his livelihood, but the men would not take no for an answer. They threatened him, so fearing for his life, the merchant gave what they demaned in order to save himself. However, these were not honorable men. Whether to satiate their bloodlust or to set an example, Richter to this day does not know, but the mercenaries killed the merchant despite his payment, calling him "a selfish old man" as they pillaged his things.
Richter had arrived at the man's home for their daily session just in time to see his friend's body thrown out the door. Horrified and enraged he drew his sword and attacked one of the men. But he was outnumbered, and was quickly overpowered and tossed to the ground. The mercenaries beat Richter bloody before leaving him crying and bruised next to his dead friend.
Richter returned home, carrying his friend's body, to find his house in ruins and his family's dead bodies strewn about the ground. Seeing his mother, dying, on the ground, he ran to her. Tears streaming down his face, Richter shouted and cried as he apologized to his mother, saying it was all his fault. His mother, calm even as she was dying, shushed him and told him he was not to blame. With her hand on his cheek she passed into the next life.
Richter left his home, having nothing left, and vowed that he would never let anyone suffer as he had. He vowed that he would gain the power to rid the world of the oppression that had left his life in shattered ruins.