Hayle
Nov 13, 2012 0:05:42 GMT -6
Post by Hayle on Nov 13, 2012 0:05:42 GMT -6
Name: Hayle
Class: Archer
Hair Color: Black
Eye Color: Orange
Age: 27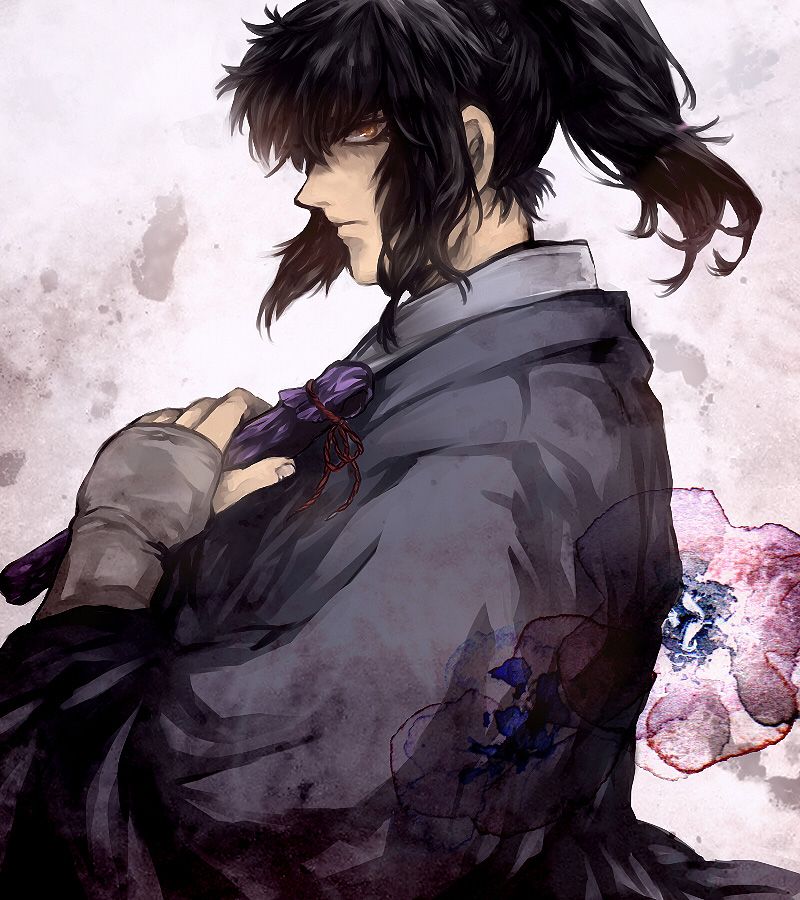 Hayle's Theme
Appearance: Hayle wears fairly non-descript clothing, the less attention he gets the better. Grey is very much his color, he commonly wears a large grey great cloak over a grey tunic and pants made of a roughspun fabric. Has a belt loaded with pouches, as well as a hip quiver on his right side. A small sling bag on his shoulder is where his cat sits while they travel.
Personality: To say Hayle is cold is an understatement. People have remarked that being around him is colder than sitting stark naked in the middle of a roaring blizzard. A man of few words but a biting gaze. Voice is rusty sounding due to lack of use. Regular expression seems to be a cold glare and a frown, like a mask of ice. Occasionally shows a small smile, though he doesn't realise it, generally happening when he holds his cat. Gets a haunted look in his eyes whenever he sees a child that resembles his lost daughter, which generally culminates in finding the nearest tavern to try and drink the painful images away.
Born in: Etruria
Story: They say that one's ability to overcome adversity is often a discerning trait used to determine the success one might have in life. Sometimes, people find that the burdens and troubles that life throws at them can simply be too much to bear. Some use it as motivation to drive them forward to beat life at it's own game.
Hayle... is not such a person. Nor was he always so heavily weighed with life's sorrows.
Back then, Hayle was known as Artain. Artain, whilst not always the most talkative of people, still managed to find happiness when it came along. Born and raised in a small, nameless Etrurian village, he lived a peaceful, oft pleasant lifestyle. Despite the lack of money, Artain was not without a happy home, friends, or food. The second youngest of 7 children, Artain was always drawn to the forests and mountains, finding clarity in the peace and serenity of such surroundings. His father, while not an educated man in the classical sense, was a great repository of knowledge about the land, plants and animals. Making his living through hunting and herblore, his father was a well respected member of their tiny community, known for his skills at treating illness and malady with his knowledge of the land.
When Artain reached his 18th year, love found it's way into his heart in the form of the fair haired Verena, oft one of his playmates during his childhood years and daughter of the village headman. With both families blessings, Artain and Verena were married and after a year were blessed with their first child, a girl who they named Aesta. The happy family were content, with Artain continuing to learn the healers craft from his father. Thanks to the many years of knowledge given to him, Artain soon gained a reputation as a healer of some repute in the area.
Years later, when Aesta was 8, a virulent plague swept through the village one winter. Taking it's toll upon townsfolk, many people soon succumbed to it despite Artain and his father's ministrations, including Artain's father himself. Leaving Artain as the sole person with the knowledge to care for the villagers, he and Verena worked tirelessly for days, trying to save as many as they could. Thanks to the knowledge that he possessed, Artain was able to prevent his family from getting sick, though he was unable to save everyone in the village.
Unfortunately, this attracted the attention of the Church of Elimine. The plague was not just limited to Artain's small village, it had affected many in the area and the priests had been sent out to do what they could to help. Upon reaching the tiny village and finding Artain and his family still healthy, despite the virulence of the plague, the priests suspected witchcraft. With typical religious zeal, they consigned the family to death by burning, with Artain to go last for his "crimes" being the worst.
He could only watch in horror as his family were dragged screaming to the pyres, held back by 2 of the priests warriors, the rest of village that were able to stand watching on, doing nothing to help him after he'd tried his best to help them. Begging the priest to reconsider, Artain finally snapped when the torches were throw onto the pyres. While not a large man, Artain was in good shape from years of hunting and exploring the forests and mountains. With a surge of strength, he broke free of his captors, grabbing a sword in an effort to fight them off and save his family Fighting like a man possessed, Artain nearly broke free of his opponents until... a rock throw at him caught the back of his head, stunning him just long enough for the warriors to bring him down.
As his vision gave way to darkness, the last thing he saw were his family burning and their screams in his ears, the laughter of the priest providing an evil, mocking counterpoint while they burned..
Dragged away outside the village by the warriors, Artain was left for dead in the snow. Bleeding from many wounds, he was awakened by a small grey cat, half starved and licking at a wound on his head. Visions of what had happened flickering through his mind, screams echoing in his ears, Artain somehow managed to drag his injured self home, or rather, to what was left of it. The remains of his home left charred and smouldering, he managed to sift through the remains to find what was left of his healing supplies and food. Patching himself up and changed into what little clothing that was untouched, Artain left, taking the only things left remaining to him, the bow his father had made for him for his 25th birthday, 2 warped metal charms, burned by the fire that belonged to Verena and Aesta and the small grey cat that had saved him from an icy death.
The man named Artain no longer existed, everything maliciously ripped away from him in a single instant.
Only Hayle remained, a man with no family, no purpose and no reason to live anymore.