Reid
Jan 16, 2014 20:21:00 GMT -6
Post by Reid on Jan 16, 2014 20:21:00 GMT -6
Name: Reid Quinn
Class: Shaman
Hair Color: Red
Eye Color: Green
Age: 32
Appearance: Reid has long, dark red hair, and red-framed glasses which are accessorized with a neck chain containing skulls. His typical attire consists of a vest, gloves, red and white striped bow tie, and red and black boots. On occasions he wears a red coat that falls to his knees. Reid doesn't actually need glasses, he wears them because he feels they show his intelligence more.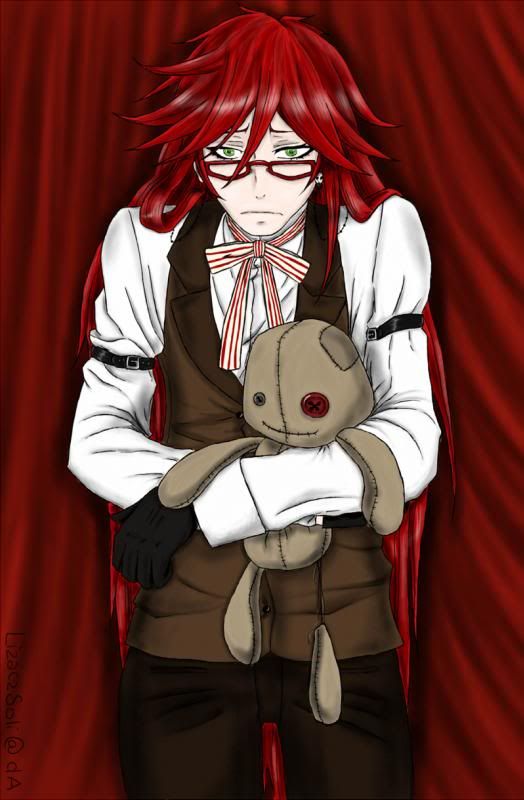 Born in: Illia
Story:
Reid was born into the higher middle class as the eldest son with a sister three years younger than him. His family had the money to send him to school which was a good thing for his parents, he had always questioned how everything works and many other things. His tutors had saw how intelligent the boy was at such a young age and knew he would quickly surpass their teaching abilities so they suggested to his parents to far better teachers. They had scrounged up the extra gold they needed to hire the new teachers but it was worth it, Reid had excelled once again in his studies. When he was nine he had began to wonder how the body works and what it looked on the inside, as the phrase goes "curiousity killed the cat" Reid found the nearest animal he knew he could over power and killed his younger sister's kitten and opened it up. What he saw intrigued him, so many organs packed into a small body was oh the wonders how they worked exactly. His parents quickly learned of his sadistic acts, he had received the ass whooping of his life in spite of his claims he did it in the name of science.
In his early twenties he left home in order to further his studies, his mind was still growing and limiting himself to the scholars at home was hindering his intelligent mind. It was at this time he discovered a tome of elder magic. These words in a language he has never seen drew him in, he spent much time trying to decode the book. There were days he got almost no sleep trying to cross reference the book with outs, he had skipped meals left and right while he lost track of time while reading. He even went to other scholars who almost ran when they saw the text, the fact the book had seemed taboo drove him deeper into studies. By a stroke of luck he had found somebody to say at least one thing about the book, it contained dark magic. From there Reid packed his belongings and went in search for somebody talented in the arts of dark magic.
Finding a druid well known to the locals he approached him asking for instruction in the arts of dark magic. The man cocked one eye wide open as he tilted his head, such a strange request, at any rate he had agreed to the task. Taking his pointer finger and middle finger he whacked Reid upside the head 'One more thing. Do not call it dark magic, it is elder magic'. Reid had spent the next ten years studying under the druid in hopes of uncovering why it was so taboo. At the start of his studies his teacher had seemed a little bit out there but after 10 years it was getting more difficult to get a complete sentence that made sense from him and Reid wasn't any closer to learning out why the magic was so taboo, he had his ideas but it required further research. Fairly confident in his ability to read the foreign text and even his casting he set out in search of more answers.