Post by Ixenmi on May 10, 2014 11:14:30 GMT -6
Name: Ixenmi {
Queen of Glaciers
}
Her
Theme
upon meeting.
Class: Manakete
Hair Color: Light blue and flowing long. The sides are equally long forming at times almost a hanging curtain of light azure strands. It has an almost natural luster to it that draws as one of the primary reasons it is the most noticeable trait about her.
Eye Color: A deep emerald Green to reflect an entrancing gaze that seems to span on endlessly like a hall of emerald mirrors. A virtually paralytic gaze holds, her gaze deep and seemingly able to stop human's in their tracks from the smoldering intensity and almost sensuality at times, to her this is something she enjoys the most. The awkward or unsure gazes when they look her in the eye and get caught off guard by it's intensity, as if she's drawing them in.
Age: Too old(stopped counting after three hundred and twenty.) However Ixenmi appears to have the age of a woman in her early twenties. Her skin is virtually flawless and she carries herself with a grace that shows a "youth" in her step. From her adult appearance she could be assumed to be in her late four hundreds early five hundreds.
Born in: Arcadia
Personality: Ixenmi was once a kinder soul then she has been in her most recently days. She was caring and playful, taking enjoyment in almost everything and a presence everyone enjoyed to be around. She was often known for her quick wit and sharp comebacks. She held a love for entertaining others, simply for it's own sake. Learning and studying with a ravenous hunger for knowledge she poured through tomes countless into the night and for days at a time. She had a conviction to her friend's and loved ones and a fierce protection often compared to that stereotypical of a dragon. Her laugh being known as a contagious one, she took great satisfaction in being one of the biggest contributors to light hearted moods. This however changed...
when the fire nation attacked
during the events of her time in Arcadia however a few events would transpire that forever altered her perspective towards humans.
A serious event in her life however turned her against all but her own kind. She became embittered and looked at Human's as merely things for her own amusement or whim. She takes advantage of her outstandingly good looks to charm or manipulate humans or attempt to simply for her own design. She's seemingly closed herself off to others, and finds herself simply traveling the land in search of things to amuse her. She has a long..long life ahead of her and needs to make the time go by as fast possible. She is more open with her own kind though equally closed off deep down. As if mental blocks were built around her emotional capacity.
Appearance:
Human appearance: Ixenmi's most noticeable traits are her light blue hair, and her choice of garb. Both equally outlandish and the fashion virtually unique to her. Her body's nature appears as one of noticeable curves, being both beautiful and knowing she is beautiful. Often dressed to leave very little to the imagination, she is not above using these for her amusement. With a rather large bust and well curved figure she can come off as alluring to unprepared males(or females at times) though these reactions are often her favorite. A very cold tone can some times substitute her almost purr of a voice when she is being her genuine self. Her Hair reaches down to her lower back, and often follows almost like a cape, trailing behind her as it does. Her pose at times can however reflect the opposite when she is in thought contrasting to her alluring stances. When in thought she often clasps her shoulders or upper arms with opposing hands crossing them over her chest. Height wise she is on par with the average male, if not slightly taller. However in her experience this has done little to diminish her charm towards others.
As a dragon she takes on a truly horrifying yet stunning visage. Her real form being a colossal Ice Dragon, as if her very body was able to engulf all around it in ice. Colossal spikes of ice rise like a ridge along the tip of the head crest running down the length of her back with series of spikes running along her forearms and the ridge of her elbow as well. The reflection of light making shadows appear along the depths give her black shadow patches through out her body and her ice blue scales shimmer as if made of ice as well. A heavy series of spikes have also grown and branch upwards out of her chest like a plate of armor. A ferocious yet beautiful sight that can strike equal amounts of terror and awe into any who see her in this state.
Her dragon form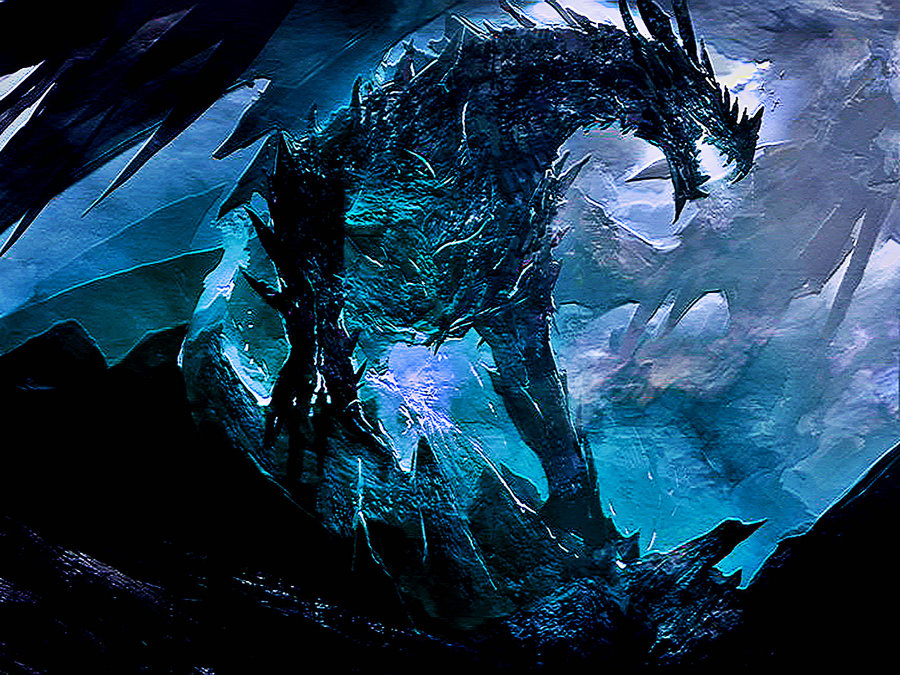 Clothes: A peculiar style of her choice outfit
is often seen upon Ixenmi's figure. A virtually transparent brown full body stocking like material. Her choice of clothing partially reflects the exposed skin virtually through out her entire figure due to the desert home she spent most of her life in for the longest time. The only portions covered with additional fabrics are at her chest and lower torso akin to a dancer's attire. A small cloak draped over her shoulders runs down her back with her hair typically resting atop it draped down like a waterfall of fine threads. This is to hide her wings which she keeps tucked flat against her back, as she finds it far more interesting to fool others into thinking her a mere human. Gold bangles adorn her near her thighs, her wrists with small rings around her middle fingers that ensnare her stockings around her middle finger similar to an older style of mages attire. Around her head she wears a tiara like gold piece almost akin to a decorative hairpiece.
Like most Manakete she wears little to no actual protective gear, instead relying on her natural draconic power to shield her.
Her dragon stone is kept in a small jeweled socket near her right thigh embedded in one of the gold bands. She is fond of lightly running her fingers along it though this gesture is misconstrued as something more promiscuous. She is very fond of it and it is the only possession she cares for.
Story:
From the earliest years she was always a very outgoing girl. The type to climb onto a "grown-up's" shoulders and look down frantically interested in what was going on. This was what lead her to her desire to read, at a young age scrambling upon the shoulders of others to look at what occupied their attention. This carried for some time, a certain innocence following through for her into her older years. As she grew she began to learn what it meant to be both a dragon, and to her interest human. They were such frail things..but to her it gave their lives a certain beauty. Beauty in a temporary existence. Everything had much more meaning. She grew to love this, despite what she would learn as it's consequences in her interests of the Human's frailty.
Time etched on, she grew both in beauty and intelligence, constantly receiving praise for her beauty or her smile both of which she became proud of. She enjoyed using these things often to brighten peoples day. Dancing on tables in a display of grace to brighten dreary days, using witty banter to encourage others to smile or laugh. Humans, or Dragons she enjoyed the company of. In her draconic form as she grew she often let the younger ones climb upon her back or scale the protruding spikes (though keeping a watchful eye in the process) to parade them as if some grand hero returning from their adventures to save others. In time, like most young dragons rising into maturity, she slowly began to be drawn to a single human above others.
His name was Gregor. A mirthful swords-man many times over acclaimed with various fates of bravery or unwavering heroism and yet he often enjoyed playing the role of oaf simply to boost the spirits of others..including Ixenmi. They began to spend more time together upon their own. Her infatuation did not allow her however to notice that he spent equal time with other maiden's both draconic in human form and Human who lived within the ancient hideaway's confines. She began to hear whispers of it, but she paid them no yield. Her demeanor dictated her unwavering dedication to the man that had taken her heart in his booming laugh. This would never last others thought...and they were right.
One night she found her whim guiding her into the dark knight to trace the stars. To greet the oldest of the lights and see what they could tell her. It was then that she heard a peculiar laughter. A fit of giggles and that oh-so-familiar booming laugh. Curious she gazed around the corner, fingers lightly tugging at the stone building's edge while she examined the sight that would become one of two sights to seal her off. Gregor among-st three maid's, all human from initial speculation. One sat upon his lap where his hand fondly caressed her rear, and another near him with his other free hand around her waist. A mug of ale sloshing about in his hand. A third laying upon the table on her side with her elbow propping her head up. All three were enamored by him. Was it possible? Had she perhaps stumbled upon some illusion being conjured? Who would have performed such a vile task. This was not in-fact the case. She could smell it. Their scents. Their horrible scents. Revulsion quickly over-whelmed her as she tucked around the corner. Her hands clasped at her upper arms near her shoulders as she shivered though not from the cold.
She quickly ran off. She desired not to see any of their faces. None. Her innocent world of joy quickly shattered. There was only one place she could go. One place to escape. The "outside" world. This would be the place for her to travel alone. She had always put herself entirely out there, wearing her heart on her sleeve and loving as hard as she lived. It hurt all the more for it. What hurt her more was the fact that no one, knowing of these if enough whisper the rumors would not tell her to her face. In a community that emphasized a close relation between the human's and dragons with open compassion for one another with a place for everyone what friend, what neighbor did this?
However her solitude did not last long. For the desert..while large..was not safe entirely. Not like the home she had lived in. Nomads, a large group of them had wandered upon her while she slept. She awoke to ropes binding her and a gag in her mouth that's fabrics tasted of rough quilt-work. She wanted to free herself. She knew however if she attempted to it might harm them, and as she had grown up understanding humans as friends despite her tragedy it was against her upbringing to harm a single human. The discovery of her wings made her a prize to them. Both her beauty and the value of a prisoner who was a dragon. She was not treated well. She was not treated gently. She had slowly changed. A kind hearted woman slowly became a foul and angry tempered manipulative woman. Her charms and beauty which she had began to curse became a gift once more. When she gazed at them the men that would harm her hesitated. She knew all to well the power a smile could hold..the power that a gaze could extract. One night, while she lay bound on the floor..after countless moments in time..hours..days..months..maybe years? It all meant little in perspective. A man came in. Laying there, legs bound, mouth gagged with her hands bound behind her and her wings roped at several points. Her deep emerald eyes looked at him with an expression of pleading. As if to say only he could help her. The man hesitated...
He took a moment to peer outside the tent before silently creeping to her side. He tugged at her bindings that kept her gagged so she could speak. Fainting breathlessness she began to cough and sputter, all the while portraying a week woman. In this action, she had earned compassion. Which she would use against them. The man's hand pressed to the bare portion of her back between her bound wings, and she looked up at him with an expression of unequivocal thankfulness. As if he had saved her very life. She spoke, the first time they had heard her speak outside of embittered snarls or curses. Her tone had almost an affectionate purr in it. "You've..thank you..my savior..."
She squeezed lightly on his forearm with a gentile grip making it seem as if she were no more than a frail beauty. In his eyes, she saw what she surely had held in her own eyes for the scoundrel that had broken her heart. The approaching sound of others caused the nomad to look up, before apologizing and tying the gag back in..albeit no where near as tight. He began to spend more nights speaking to her. She could feel his adoration of her growing. All the while his distaste for the leader of their nomad's for publicly hurting her. It was in the late of the night when the moon held highest over the slopes that the two acted. She schemed with him for this night over a month in the working. After-all if all else failed she could simply live long enough to strike him in his decrepit age. Her "champion" was able to sneak up upon the guards while she approached them slowly. Her eyes lingered on the two men as they were snuck up upon. Her figure pale in the moonlight, she drew out each step with the sway of her hips to momentarily distract them. As she had learned..some men could be so...weak willed. Just as she had been. The first could barely widen his eyes before a blade pierced his neck and he fell quiet without more than a gargled gasp. The second as if in shock attempted to draw his blade only for a viper like strike to lash at his throat from the bandit's knife hand as he quickly moved to cover his mouth as well. He slowly lowered them as the two parted the tent curtains of the Nomad leader's "bed chamber." With the open flaps tied to the top a pale light bled into the room.
The nomad assisting her crept to him, past the two sleeping women laying on the ground near his feet. His hand moved slowly with a thick tension, the darkness of the back of the tent allowing only the faint outline of the sleeping chieftan. The knife plunged into his chest and the man grunted loudly attempting to rise. Her partner placed his hand firmly against the man's chin holding him down while he pressed the knife further. His last lingering thoughts...were of the ghostly pale enchantress of a former slave they had abused one too many times.
How long ago had that been? Ten years? Twenty? A century? She could not say. She had rid herself quickly of those who attempted to follow her. The notion of leading them appealed to her but for a moment. They were such fleeting things. She would find toys elsewhere that could amuse her..and with this she traveled..and still does today.