Post by Aohonō on Jul 14, 2014 21:58:32 GMT -6
Formal Name:
Barē no Zankokuna Aohonō - meaning "The Cruel Blue Flame of the Valley" in her tribe's native dialect.
Informal Name:
Aohonō – meaning "Blue Flame"
Class:
Manakete (Fire)
Age:
2914
Born in:
Bern
Appearance:
Dragon: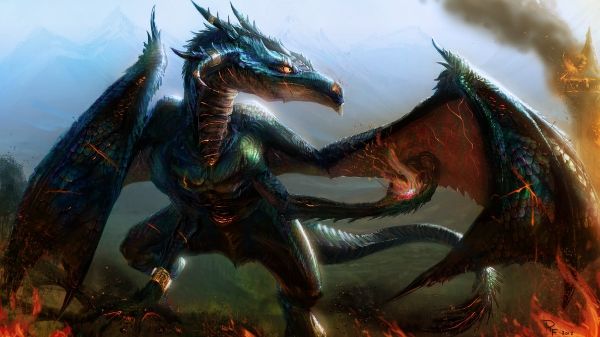 Standing at just over 14 meters tall, Aohonō is average sized for a female manakete of her tribe. However, while her family and tribemate's scaly hides tended to be varied shades of a fiery red, Aohonō was born with scales of a deep blue, her only red feature being her piercing eyes. Being a manakete, her draconic body is more slender and lithe than her dragon counterparts, but long, spiked horns still protrude from her head and the end of her tail, and her slender talons are still sharp and strong enough to slice through bone.
At the time of her birth and until she had matured, it was unclear why her appearance was so different from her kinsmen. But her iridescent blue scales were a testament to her unique draconic breath, which burns hotter than the rest of her tribesman, causing it to appear blue to the human eye instead of red. Aohonō earned her formal name "Barē no Aohonō" because of this.
While many parts of her scaly hide are still unblemished, Aohonō's draconic body shows the scars and gaps of age that many of the dragons who fought in the Scouring, not to mention some more horrendous marks from her time captured by Zlatan. These splits and scars in her scales glow white hot when she is preparing her breath in full dragon form, and many of them appear on her human form as well.
Human:
The lissome nature of Aohonō's dragon form is apparent in her human form as well. Her skin is often tanned as she loves to be out in the summer heat, and while slim her human body does not lack in voluptuousness. She is quite beautiful, though it can be hard to see past her piercing red eyes which are often narrowed in contempt. She bears the tribal markings of her kinsmen on her forehead and right side of her face, a proud reminder of the once great Hinotani.
Aohonō's strange blue dragon form shows in her human form as well, her hair a shining shade of blue. She does not cut it; rather, she sports a plait braided from the bottom half of her tresses which trails the entire course of her back, coming to rest just above her backside. She wears the top half of her long locks in a round bun, while a small portion of her hair is left to curve around the left side of her jaw.
While the manakete is not fond of humans, Aohonō has taken to certain habits after spending so many years trapped in the her human form. She stains her lips a dark red and darkens her eyes with a mixture of black tea and cocoa. She prefers the clothing of entertainers and dancers, finding beauty in the flowing silks, intricate embroideries, and shining golden jewelry.
Personality:
In regards to the four temperaments, Aohonō has always been a textbook choleric . She is an ambitious and passionate woman, though her only outlet for this now is hunting for her meals. Aohonō has an incredibly high opinion of herself, not afraid to outwardly recognize her intelligence or power. Because of this, she can come off as a bit ego-centric, though it is the worst when others contest her character. Much like her father, Aohonō does not fear issuing a challenge to those who looked to belittle her name.
As a young manakete, Aohonō was extremely impulsive, which paired with her strong will made for many a dangerous situation in her time. This impulsiveness has faded some with age, though she still finds herself taking unplanned trips or becoming lost in a hunt for weeks on end. Her resolve, however, has only strengthened with time, and it seems to have evolved into extreme hard-headedness with her age. She generally believes she is right, and has an immense stubbornness about admitting her flaws unless she can gain something by it.
While she used to be extremely outgoing, Aohonō's time in captivity caused her to become reclusive, keeping to herself and avoiding interaction whenever she can. Sometimes she longs to make a connection with someone, but the only people she's come in contact with since freeing herself are, well,
people
. Aohonō blames humans for all of the suffering she and the dragons have gone through since the Scouring, sometimes to a fault.
Through all of this, Aohonō has an intense love of family and community, which is why she is still heartbroken over the loss of the Hinotani and her father. She is a fierce defender of those she is close to, though very few outside of her family have ever become this close to the fire manakete. While she deliberately separates herself from others, this solitude brings out dark, melancholic moods in her which can last for years.
Story:
Aohonō was born into the great Hinotani tribe of fire dragons, who once roamed the valleys of the southern mountains of what is presently known as Bern. While not born to parents of great status in her tribe, Aohonō brought enough attention to her small family with the unnatural coloring of her scales, looking much more like a dragon of the water tribes than that of the proud and oft judgmental Hinotani. Whispers of infidelity circled the young manakete's family, tarnishing their reputation for hundreds of years. Aohonō's father was infuriated by these accusations, making it known that he would challenge any dragon or manakete who spoke ill of his faithful wife.
It didn't take long for Aohonō's small family to realize that the nature of her coloring was actually attributed to her unique draconic breath: a blue fire, which burned hotter than any of the flames of the other manaketes in the Hinotani tribe. But while the heat caused the manakete's fire to be more powerful than her counterparts, it took much more endurance for Aohonō to create and use as a weapon. But Aohonō's father saw the potential of a warrior in his daughter, so a mere 400 years old Aohonō was taken from her family to train to be able to truly utilize her potential.
The small group of Hinotani which Aohonō trained with were a monk-like group known as Honōbendā who had taken to the mountains in search of a life separate from the sometime burdenous social constructs of the tribe of fire dragons. This small group of men and women dedicated their life to honing their mighty draconic breath, developing its power until they could bend the fiery power into devastating attacks which could be thrown or coated over their scaly bodies. The oldest Honōbendā, a dragon of just over five thousand years known as the Hinotani Nodai Honōbendā, was said to be powerful enough that violent shifts in his mood could dry up oceans and cause entire forests to wilt under the heat of his body. As such, Nodai was extremely reserved, only speaking when imparting his great knowledge to those who sought him out and rarely ever using his draconic breath.
Aohonō trained under the Honōbendā and Nodai for the next 600 years, though it did not come without challenges. Being the firebrand she was, Aohonō was known for constantly questioning the way the Honōbendā did things, arguing that she could find a better way than their thousands-year-old tradition. While Aohonō was powerful, she wasn't able to control the white-hot flames contained within her, often exhausting herself into unconsciousness, which could last five or ten years at a time. While Nodai tried to teach Aohonō the value of control, Aohonō was convinced she could tame the raw, fiery power within her on her own, without it consuming her.
The young manakete left the Honōbendā, sick of the ways of the hermits who had tried to control her. Aohonō set out alone, determined to find her own way of wielding her blue flame. So she took to the low valleys of the Bernese mountains, working to find her own way of bending her power. While the Honōbendā had become mighty wielders of their breath by being devoid of emotion, allowing them to draw their power from their inner control, Aohonō found that by training her endurance she could last longer and longer while still erupting with the same mighty force, sometimes stronger, than those of the Honōbendā. While exhausted afterwards, Aohonō was extremely pleased with the results of her newfound method, working for hundreds of years to hone it as she kept to herself in the low valleys.
The blue scaled dragon returned to the main Hinotani tribe after 700 years in the valleys, and her raw power was lauded by the chieftain and the tribe. Aohonō was happy that she could finally bring honor and pride to her family, knowing what sorrow and anger her birth had brought to them in her younger years. Aohonō's father, one of the elders of the tribe now, was thrilled to see his daughter again, especially being so powerful. Alas, though, Aohonō's return brought more pain to her father than happiness, however, his beloved wife's spirit had passed on during Aohonō's 1300 years away.
There was little time for celebration at the mighty manakete's return, though, as the Hinotani requested that Aohonō join the Honoheishi, the Hinotani's elite warriors who were tasked with protecting the Hinotani and training other manaketes and dragons to do the same. When Aohonō accepted, she was given her formal title "Barē no Aohonō," meaning "The Blue Flame of the Valley." This honor brought immense pride to her aging father and to the powerful Hinotani, ecstatic to see her live up to what he saw as her true potential as a fearsome manakete warrior.
But the largely peaceful life of these valley manaketes would end soon, instead being subject to great war. For some time now the humans and manaketes had lived in relative peace, maintaining key alliances with one another and generally staying out of one another's ways. But the cooperation could only last so long, and it seemed the humans had become jealous of the prosperity of dragonkind. The Hinotani made their home relatively close to a few human settlements, so their chieftain noticed the tensions rising and did his best to notify the other tribes while preparing his own for impending war.
Being among the Honoheishi, Aohonō's duty was to come to the defense of dragonkind when the war finally broke out. She was a fearsome and vicious sight in battle, lashing out against the waves of human warriors which seemed to never end with her white hot flames. But when the Hinotani were being forced to retreat into the mountains, they were enraged when the Divines did nothing to defend their brethren, their inaction more important to them than the lives of the elementals, instead having to rely on The Mountain and his army of War Dragons to try and turn the tides of battle and regain their land.
But when the humans unleashed the Divine Weapons, the scales tipped greatly in their favor. Rumors of the greatest dragonkin being taken down by the weak but ever persevering humans of Elibe spread throughout the dragon tribes, weakening their resolve. The 100 year battle now known as the Scouring even brought the great fire dragon Nodai out of the mountains, only to be struck down by one of the 8 Heroes. The once great Hinotani tribe were reduced to just a few manaketes and dragons, and in order to preserve their culture, they retreated deep into the mountains with Aohonō, the last Honoheishi alive, to lead and protect them. Once in relative safety, the Hinotani survivors mourned their lost loved ones for a hundred years in the northwestern Bernese mountains, now known as Nagekino Sanmyaku, "The Wailing Mountains," to those dragons who still know the Hinotani dialect.
After the Nagekino Toshi, "The Wailing Years," Aohonō was exhausted from the war and from her own mourning - her father had been slain in the fighting, unwilling to leave his home when the humans had forced the Hinotani from their lands. In light of the Ending Winter, Aohonō and the other members of the Hinotani had discovered how to create the dragonstones they now needed to hold their true forms and had to bear as a mark of their shame and defeat to the humans. Sapped of what was left of her strength after creating her dragonstone in the Ending Winter, Aohonō fell into a deep sleep, her body desperate to recover from the vicious fire which had wreaked havoc on the manakete's insides in the Scouring
But Aohonō wasn't able to fully heal from her trauma, as in her deep sleep her dragonstone and hibernating human form were stolen away by an insane manakete scientist, a man Aohonō only ever knew as Zlatan. When Aohonō was rudely woken, her dragonstone was nowhere to be found and she was bound in heavy chains. Her captor was a dragon obsessed, having lost his own dragonstone by his own foolishness. He had decided to attempt to regain them by stealing the stone of the last Honoheishi, in an attempt to free him of his imprisonment in his human form.
As he would discover, only the owner of the dragonstone and by extension the spirit within could wield and use its power. He was not willing to accept defeat, though, and instead kept Aohonō as his captive for 500 years, trying to find a way to access her power through various means of experiments and often excruciatingly tortuous methods. The once great warrior was brought to the brink of death more than once; having been reduced to a prisoner in more than one sense of the word, she often wished death would simply take her and reunite her with her spirit. All the while, Aohonō's dragonstone was kept hidden from her, somewhere where she couldn't even feel its spirit any longer. Some days, the only thing keeping her from slipping to the other side was the thought of her talons gripped around Zlatan's disgusting neck.
But being mentally unstable meant one day Zlatan would slip up, and that day came when the man left her bindings looser than usual, too focused with spitting hateful things her way in his growing frustrations. While unable to harness the full power of her dragon spirit, Aohonō was a warrior at heart, and had been secretly working to regain what strength her human form could when Zlatan was away. She was still weak, but she was able to slip her way out of her bindings. While she likely could have waited until her captor had gone away to sneak out in the night, Aohonō needed to know where her stone was – and she needed revenge on her captor.
So when the man came to take her to her for yet another experiment, Aohonō channeled every bit of strength she could to fight. She viciously lashed out against Zlatan, her malicious strikes mixed with her shouts, demanding to know where her stone was hidden. But the woman's violent outburst was met with nothing but insane laughter. Her primal instincts consuming her, Aohonō shrieked with fury, not stopping her blows even after it was clear the man would not see another sunrise. Her nightmares are still haunted by his cries for mercy, though they are always drowned out by her carnal screams of rage.
Embittered but vindicated by the maliciousness she felt within her as she had beaten her former captor into a pulp, Aohonō added Zankokuna to her formal title, bringing her name to mean "The Cruel Blue Flame of the Valley." While the title Zankokuna was only used for the worst villains of Hinotani legends, it is present in Aohonō's title as a reminder of what she had become. While she was still Aohonō, the war and her time in captivity had forever changed something in the woman, so much so that she'd never be the same manakete that her father or mother once knew.
But even with her newfound freedom, Aohonō still lacked the one thing that made her Hinotani: her dragonstone. Aohonō searched far and wide for the cloudy blue stone, but her search was in vain. Somehow in his madness, Zlatan had hidden the stone in a way that the once great dragon warrior could not find it. She was free, yet she was trapped in her human form.
Desperate for help to find what she had lost, Aohonō went to the only place she could think to: back to the Nagekino Sanmyaku. Still broken from hundreds of years of isolation, Aohonō longed for the voices and faces of her people, who would likely help the Honoheishi woman find her precious stone. But upon Aohonō's arrival to their usual part of the mountains, the Hinotani survivors were nowhere to be found. She spent twenty years searching up and down the Bernese mountain range, but every cave and valley proved empty of her kinsmen. The Wailing Mountains had fallen silent.
So Aohonō found herself alone, likely the last of the Hinotani and lacking her true spirit. She still searches for her missing stone, and she is desperate to have it back in her hands. Even in her quest, she still visits the Nagekino Sanmyaku often, those somber mountains being the only remaining sign that her tribe had once been a powerful presence in Elibe. But like any Hinotani would, Aohonō still finds herself hoping some days that there is still another of her kinsmen somewhere in Elibe, someone to share the burden of the manakete's greatest shame.