Post by Rennai on Jun 25, 2017 17:58:35 GMT -6
Name: Rennai
Class: Taguel-Bird (Heron)
Dragon Element:
Age: 17
Born in: Vinland/Faxaoss forest
Starting adaptation: Blessing
Appearance: Rennai looks like a young woman with long turquoise hair and shining purple eyes.Her skin is slightly darker than that of most heron taguel what is further accentuated by her white and blue attire. Like all bird tribe taguel she has wings on her back. Being a heron, hers are white.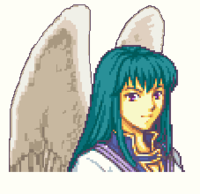 Personality:Rennai is fairly shy around strangers, but once she starts talking to a person she will often find herself starting to enjoy the converstion and start to talk a lot more freely, as if her shyness had vanished. Then she may also start to telling or listening to jokes, as she greatly enjoys laughing with others. She has a strong desire to help and protect people, which often means healing them with her natural abilities. Rennai tends to not be a very outspoken person normally,but can surprise a lot of people with her willpower when she decides to. Being very curious by nature she is always open to new experiences.
History: Rennai was born into an unusual family of herons, consisting of her Father Rehran, her mother Senella and her 2 year old brother named Ristot. The family rejected the custom of isolation that the other taguel had set up as an unspoken rule and tried to help others whenever they could. The siblings were taught to fight and use the natural abilities of their race. It turned out her brother was naturally adept at fighting while she could use the energy around her to heal. Up until the age of 8, or 10 in her brothers case, they both had time to hone their skills. Then their parents decided to expose the two to the real world, sending them outside the forest they grew up in. They sent both of them out to explore and help people whenever they could. Of course they didn't just let them go at that age, so her mother followed Ristot and her Father followed Rennai, withoout their knowledge. While they were travelling however, her brother got hurt severely, when he tried to defend a Raven taguel from a cat taguel,losing his left wing. It was only their mothers intervention that saved him his life. Shocked by their sons injury their parents forbid both of them from leaving the forest ever again. At first both siblings agreed. But as years passed by, Rennai started to desire to explore again. She told her brother first and was surprised to hear that he had actually been feeling guilty this whole time for keeping her here. When he told her that he would support her decision to leave if she desired to, Rennai was overjoyed. Hugging her brother she promised that even if she left she would return from time to time to visit and tell stories of her travels. The next day they both went to consult with their parents. At the beginning both of their parents were rigorously against the idea, but over the course of the argument the siblings convinced them to let Rennai go. A few days later Rennai said goodbye to her familiy and left with her brothers last words lingering in her mind:"I won't force you to promise to return safely. Instead I'll do everything I can to find you if I hear that something has happened to you or you do not visit at least every three years."
NPC fight: The Revenant was still slowy moving in their direction. She had to heal the raven boy fast! Together they had a chance of survival, alone they'd die. "Let me help!" She concentrated sending a ball of energy at the wounds helping them to recover. Slowly the the injuries dissappeared.
"Thanks."
The raven boy charged at the revenant, transforming quickly. He was flying through the sky at the speed of an arrow. Rennai rooted for him. Her fighting skills were not one of her strong points, so she'd rather stay back and heal. The Raven was inflicting severe damage on the revanant though. The monster was too slow to evade his attacks much less hit him. But sometimes these things hit by sheer chance. The revenant hit the boy, sending him flying. And not in the good way.
"Oh no. Father give me strength!"
Rennai had no other option but to attack the revenant. She wasn't close enough to heal and the raven wasn't in shape to fight. She transformed, while flying at the monster. Her beak hit the revenants head, piercing the already weakened monsters rotten skull. While she hated the feeling on her beak she knew that the raven was saved. For now.
PC fight: alt